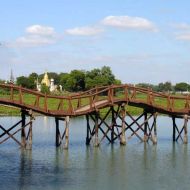 Monywa is a city in Sagaing Division, Myanmar, located 136 km north-west of Mandalay on the eastern bank of the Chindwin River. It is along the Mandalay-Budalin branch railway line but is best reached by bus as the road from Mandalay is in reasonably good shape.
Monywa is a major trade center for agricultural produce from the surrounding Chindwin Valley, especially beans, orange pulses and jiggery (palm sugar). In addition, the local industry includes mills for the production of cotton, flour, noodles, and edible oils. Monywa's rough cotton blankets are famous throughout Myanmar. Other regional crafts include bamboo and reed products, bullock carts and agricultural implements.
Interesting Places in Monywa
Shwe Gu Ni Pagoda:
20 miles east of Monywa, there is a famous Shwe Gu Ni Pagoda dating from the 14th century. The 33 meters high Buddha Image is sticked by gold foils and the original face of Buddha Image is hardly to see because of a thick quote of gold. The pagoda festival is held in May (Myanmar month Kason) each year
Bodhi Tahtaung (Thousand) and Po Khaung Taung

:
Bodhi Tahtaung Pagoda in Monywa has one thousand Bodhi Trees and each tree has a large Buddha Image underneath.
Laykyun Setkyar Standing Buddha Image:
the second tallest Buddha Image in the world at 116 meters.
Pho Win Hills

:
Pho Win Hill is thought to be South East Asia's richest collection of Buddhist mural paintings and images.
Shwe Ba Hill

:
located on the west bank of Chindwin river just beyond the Pho Win Hill.
Alaungdaw Kathapa National Park

Kyaukka Village: 12 miles from Monywa just beyond the Shwe Gu Ni Pagoda. It is a big village and well known for the crafting of black lacquerware called Kyaukka ware.



Htan Ta Loke Stream:
There is a waterfall and cold stream that comes from an underground spring. It is surrounded by big boulders and shady trees. The place is also good for bathing in the stream and trekking walk.

Twin Taung (or) Twin Hill:
about 200 meters above the surrounding area. There is a natural lake where very rare Spirulina is found. Spirulina is used in cosemtic and medical products. There is a Spirulina production factory at the base of the hill.
Hotels in Monywa
1 hotel found. Page 1 of 1
Win Unity Resort Hotel, Hotel. Hotels in Monywa
http://www.tourllion.com/reservations/mm/monywa/hotel616.html
Bogyoke Road, Yone Gyi Quarter, Kantharyar, Monywa , Myanmar
Filter results