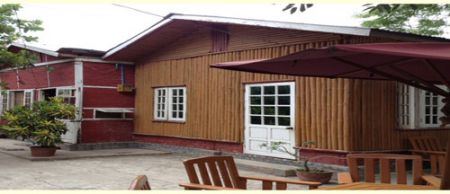 Peacock Lodge Mandalay
Peacock Lodge is a family guest house situated in a quiet garden setting with a sun-shaded terrace and within a few minutes (by bicycle or car) of the centre of Mandalay. Breakfast is included in the room price and also have bicycles for rent. Cycling is the ideal way to visit many of the attractions of Mandalay.
Rooms are spacious with airconditioning and a fan for those who prefer a breeze to cold air. Each room has a private bathroom with bath and shower with hot and cold water.
All rooms are spacious and equipped with:
- twin beds
- air conditioning
- fan
- private bathroom with shower and bath with hot and cold water
- fridge
Rooms
The hotel does not have any rooms!
Hotel facilities
Restaurant, Room Service, Car Rental, Garden
Area map
Peacock Lodge Mandalay
Hotel, Mandalay, Myanmar
https://www.tourllion.com/reservations/mm/mandalay-2/hotel602.html
https://www.tourllion.com/components/com_reservations/gallery/s1/hotels/large/g5/peacocklodge1.jpg