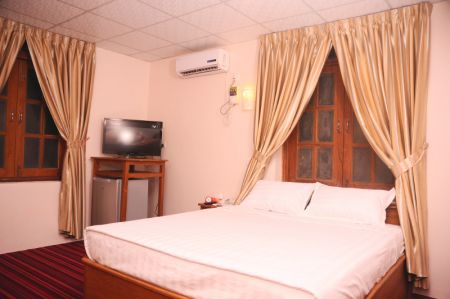 Aung Tha Pyay Hotel
Rooms
The hotel has 1 different room types and a total of 50 rooms.

Standard
2
Book now and pay at hotel!
Charge type per room
Breakfast included
Area 25 m2 (269 ft2)
Room facilities
Telephone, Television, Satellite channels, Air conditioning, Coffee/Tee maker, Desk, Bathroom, Shower, Toilet, Free toiletries, Bath towels, Slippers, Mini bar, Closet, Blankets, Seating Area, Carpeted floor
Prices are per room: Included: 5 % Tax, 10 % service charge
Bed option: 2 single beds/ 1 King-size bed
5% non refundable discount. i
Hotel facilities
Restaurant, Breakfast buffet, 24-Hour Front Desk, Newspapers, Safety Deposit Box, Air-conditioning, Room Service, Free WiFi, Car Rental, Laundry, Fax/Photocopying, Luggage Storage, Library, Ironing Service, No-Smoking rooms
Add-on services
The hotel provides under an extra cost the following services.
| | |
| --- | --- |
| Extra bed | $ 10.00 daily - per person |
Area map
Aung Tha Pyay Hotel
Hotel, Yangon, Myanmar
https://www.tourllion.com/reservations/mm/yangon-2/aung-tha-pyay-hotel.html
https://www.tourllion.com/components/com_reservations/gallery/s1/hotels/large/g5/atp.jpg
Tripadvisor reviews