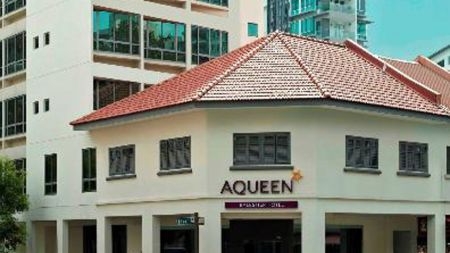 Aqueen Hotel Balestier
At Aqueen Hotel Balestier, sited within a refurbished conservation shophouse with an adjoining six-storey new building, comfort and style have been efficiently designed into the small spaces. The hotel is ideal for guests looking for a small cosy hotel with no compromise on international standards and quality.
All guest rooms are cosily furnished and fitted with modern fixtures for the busy executive, such as in-room broadband wired and wireless access, 32-inch LCD TVs with selected cable channels.
Rooms
The hotel has 1 different room types and a total of 2 rooms.
Standard Double
2
Charge type per room
Area 15 m2 (161 ft2)
Room facilities
Satellite channels, Internet access, Air conditioning, Coffee/Tee maker, Desk, Bathroom, Shower, Toilet, Iron, In-room safe
Meals: Breakfast NOT included
Bed Size(s): 1 double bed OR 2 single beds
Complimentary wireless Internet access
complimentary bottled water and this room is Non-Smoking.
Children 0- 1 year(s): Stay for free if using existing bedding.
Children 2- 11 year(s): Must use an extra bed
Guests over 11 years old are considered as adults.
An extra bed is NOT available for this room.
Maximum 2 person in this room.
Hotel facilities
Bar, 24-Hour Front Desk, Rooms/Facilities for Disabled Guests, Elevator, Free WiFi, Laundry, Luggage Storage
Area map
Aqueen Hotel Balestier
Hotel, Singapore, Singapore
https://www.tourllion.com/reservations/sg/singapore/hotel19.html
https://www.tourllion.com/components/com_reservations/gallery/s1/hotels/large/g5/hotel_19_1598.jpg