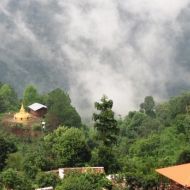 Kanpetlet is around 40 miles from Mindat, it is a remote town that offers beautiful mountain scenery and great trekking opportunities, including walks in the Nat Ma Taung National Park and the chance to climb the 3,053 metre high Mount Victoria although accommodation options are more limited there.

Kanpetlet and Mindat can be reached by bus or pick up from Pakokku; the journey time is around six hours. You can also get a private car from Bagan or Mandalay.
We don't have any hotels in Kanpetlet-Mindat. Please select an other destination.