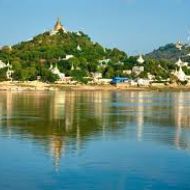 Stay in Sagaing!
Book Now, Pay On Arrival at your hotel
Best Rate Guarantee: We do not charge any fees or commissions when you make hotel bookings through us
Book with Security: Your booking details are encrypted and secure. We do not provide your details to third parties
Your credit card is used to guarantee your reservation. Full payment for all reservations will be made directly upon your arrival at the hotel. Please note that special offers and packages have different payment policy. For more information please contact to hotel direct.
Hotels in Sagaing
2 hotels found. Page 1 of 1
Shwe Pyae Sone Hotel, Hotel. Hotels in Sagaing
https://www.tourllion.com/reservations/mm/sagaing/shwepyaesonehotel.html
20, Aoe Tann Lay Road, Min Lann Qtr, Myanmar , Sagaing, Myanmar
Sein Pan Myaing Guest House, Backpacker. Hotels in Sagaing
https://www.tourllion.com/reservations/mm/sagaing/hotel557.html
Thu Damar Street, Nan Taw Yar Ward, Phoetan Quarter, Sagaing Division, Myanmar, Sagaing, Myanmar